APU ADMISSIONS GUIDE
Introducing a flexible entrance examination system that supports a multicultural environment.
INFORMATION SESSIONS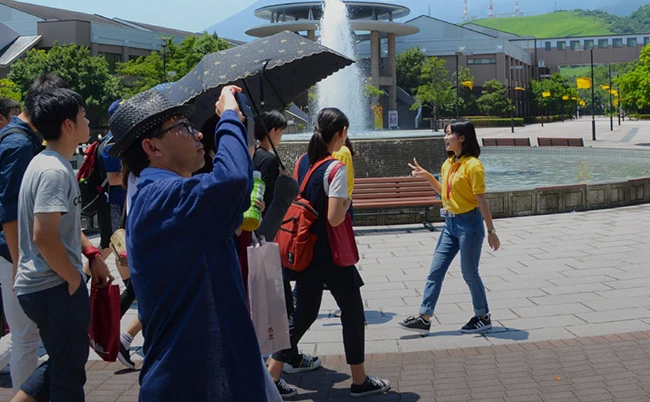 APU holds a variety of events for prospective students. In addition to university information sessions and events related to entrance examinations, APU also organizes mock lectures and exchange events to allow students to experience academics at APU. At the Open Campus, we also offer University introduction, student projects, campus tours, and other events where you can interact with current students! You can experience a multicultural campus that you can only find here.
Our most frequently asked questions are also answered here.
April 2023 Entrance Comprehensive Selection
Is the Comprehensive Selection an "exclusive" entrance examination?

Since we do not consider it an "exclusive application," it is possible to apply for admission to other universities as well.

Can I apply for more than one entrance examination?

If you meet the application qualifications, you can basically apply for both the Comprehensive Selection, Returnee Examination, International Baccalaureate (IB) Examination, and General Entrance Examination. For the Comprehensive Selection, the Returnee Examination, and the International Baccalaureate (IB) Entrance Examination, it is possible to apply for both examinations even if they are held on the same day as other entrance examinations. (You will take two exams on the same day).

How many words do I have to write in my statement of purpose?

The statement of purpose for your application should be between 800 and 1,000 characters (approximately 400-500 words in English for applicants with English language standards). However, all of the documents you submit, including the statement of purpose for your application, are opportunities for you to showcase yourself, so please be specific and persuasive and fully demonstrate your individuality.
The statement of purpose and the report of activities are not meant to state the correct answers, as in an academic test. Your evaluation will be enhanced if you can state in depth and specifically your clear motivation for applying, what you would like to do after entering the school, and your future goals and specific study plan to achieve them. We encourage you to promote yourself with enthusiasm.
September 2023 Fall Entrance Examination
I am a returnee student from a foreign school. Is there any quota for returnee students in the fall entrance examination?

Entrance examinations for students who have studied abroad (returnees) are held in the fall semester. In this entrance examination method, applicants are screened based on their application documents and an online interview to determine acceptance or rejection. We actively evaluate the language skills and international experience that returnee students have developed while living abroad. When applying, please pay close attention to the eligibility requirements.